Boston Construction Company To Build Wynn Everett Casino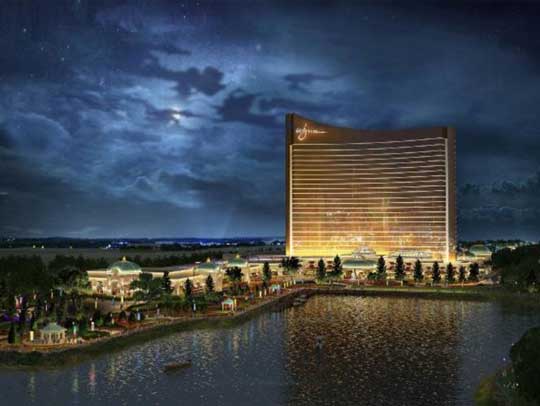 Suffolk Construction Co, the biggest construction company based out of Boston, Massachusetts has been chosen by Wynn Resorts to construct the $1.7 billion Wynn Everett casino. This new contract has now become one of the biggest private construction contracts to be awarded in the state and the construction project is expected to generate thousands of jobs in the next two years.
Wynn Resorts Ltd. obtained approval for a casino license in Everett back in 2014 but had to go battle a lot of opposition from anti-gambling groups, the city of Boston and Mayor Walsh before being able to settle all disputes and proceed with construction. The proposed resort will be built on a 33.9-acre site overlooking the Mystic River. Spread over 3 million square feet, it is expected to feature a luxury hotel, gambling halls, a spa, spaces for retail and dining operations, a ballroom, and meeting space. The casino is likely to open by the end of 2018, if everything goes as per plan.
There were more than a dozen major construction companies across the country that had put in a bid for the project but after careful consideration, Wynn Resorts decided to award the contract to the local firm.
In a statement, Robert DeSalvio, President of Wynn Everett said,
Building a five-star resort that meets the Wynn quality standards requires an attention to detail that is unwavering. Suffolk Construction shares our values and is working with us full speed to meet our ground-breaking target.
Suffolk Construction Co, with around $2.5 billion in annual revenue, is Massachusetts's largest construction company. The firm has experience in handling a number of prestigious projects, including the Four Seasons Hotel Boston, Mandarin Oriental hotel, Liberty Hotel (formerly the Charles Street Jail) and the Boston Opera House. The company also has experience of building casinos in other states, such as the Dania Casino and Jai Alai in South Florida and Quechan Casino Resort in Southern California. However, the Wynn Everett casino is the biggest single contract that the company has received in its 33-year history.
Wynn Resorts estimates the project will create 4,000 union construction jobs and around 4,000 permanent jobs after the resort opens. John Fish, CEO of Suffolk, has said that the company will work with local union contractors and subcontractors in the area, particularly minority businesses. The environmental clean-up of the site has already started and the project is scheduled to commence this spring.
---