Borgata Casino To Open $14 Million Premier Nightclub This Spring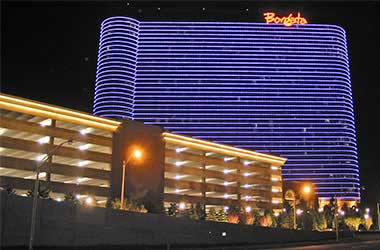 The collapse of Atlantic City's casino industry during the last 24 months put four casinos out of business and forced the remaining eight casinos to think of new ways to innovate to stay in business.
Atlantic City casinos found a significant reduction in the number of customers and the size of their bets were also becoming smaller causing gambling revenue to decline at a rapid pace.
The Borgata Hotel Casino & Spa decided in 2014 to make a conscious move to invest in non-gaming entertainment in an effort to attract a new segment of customers and create additional revenue streams.
The Borgata has decided to continue this trend in 2016 as the casino has committed to investing $14 million to create space and build a new nightclub that will cater to a new market.
The 'Premier Nightclub' will be designed by Josh Held of Josh Held Design and sport a modern yet ornate look that comes with a stage, deejay booth, digital proscenium and tiered booths. The nightclub will take up over 18,000 square feet and have a main room that will contain a couple of 35 foot long bars and a mezzanine area upstairs that a fantastic center piece made from programmable light.
The Borgata has worked with Josh Held in the past and have been impressed with his work. Held has worked on a number of high profile clubs in Chicago, New York, Las Vegas, Singapore and Dubai and has also been responsible for designing the Borgata Festival Park. In a statement, Joe Lupo, senior vice president of operations for Borgata said
We felt now was the ideal time to once again redefine nightlife entertainment with a venue designed to rival the top clubs in Las Vegas, Miami and New York
The Borgata casino is now the number one casino in Atlantic City based on the $57 million in revenue it generated and Harrah's Resort is in second place but well behind the Borgata as Harrah's revenue stood at $30 million. Casinos in Atlantic City have been forced to recognize and deal with the competition emerging from the neighboring states and the Borgata has invested heavily over the last couple of years to develop new entertainment facilities to keep customers interested.
The Borgata invested $13 million in 2013 to have complete casino makeover, $14 million in 2014 to create its outdoor Borgata Festival Park and will now invest another $14 million in 2016 for the Premier Nightclub.
---