Beijing Asks Macau To Assist In Manhunt Against Corrupt Officials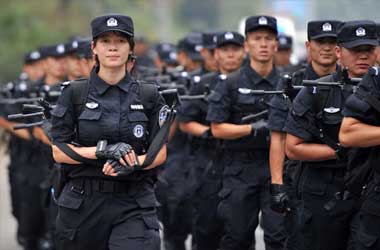 Macau Casinos were once an open haven for VIP gamblers from Mainland China who would visit the casinos and spend large amounts of money playing high stake games. A number of these VIP clientele included Chinese governmental officials who were able to spend large sums of money at the casino. These officials are being specifically targeted by Beijing as the government wants these officials to provide proof as to how they accumulated such funds.
Beijing's crackdown on Macau has severely affected the casino industry and its VIP clientele have preferred to stay away and go into hiding. Beijing launched a new campaign called Operation Skynet which will enlist a special police unit that will target corrupt officials and focus on flushing them out from their places of hiding.
Beijing recently requested the Macau government to extend its cooperation and help in Operation Skynet. As of now, Macau like Hong Kong has no agreement to transfer criminals on the run from or to the Mainland. Operation Skynet will not only target corrupt officials and fugitives but will also focus on offshore companies and underground banks that assist in money laundering. The special unit will also keep tabs on racketeering and individuals who indulge in forgery of passports, licenses and official documentation.
China's minister of supervision who is also a deputy chief of the Central Commission for Discipline Inspection, Huang Shuxian requested Andre Cheong Weng-chon, Macau commission's director to join forces with Beijing, share information and help track down fugitives and black money that corrupt officials have stashed away".
Professor Simon Young Ngai-man who is a faculty of law at the University of Hong Kong believes this collaboration will help facilitate a faster process in identifying and arresting corrupt officials. Young does not believe that the lack of a transfer agreement between Macau and Beijing will pose any difficulties.
In a statement, Young said
Sometimes through sharing of information, the Macau authorities may learn enough to undertake their own investigations for purposes of enforcing Macau law, for example, money laundering laws. This is probably what the mainland authorities are hoping for – that the Macau authorities will be able to prosecute and confiscate the proceeds of corruption and then return some or all of those proceeds to the mainland.
Operation Skynet will continue all throughout 2015 and even extend into 2016 as Beijing wants to ensure all corrupt officials and fugitives are brought to justice.
---