Atlantic City Casino Industry Recovering With Creation Of New Jobs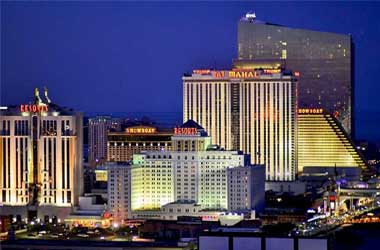 The casino industry in Atlantic City faced market slump in 2014 as customers stayed away from the casinos and casino revenues were severely affected. The market slump resulted in 4 Atlantic City casinos having to shut their doors and file for bankruptcy. This not only affected the revenue of Atlantic City in 2014 but also raised the percentage level of unemployment in New Jersey as over 8000 casino employees were left without a full time job.
The New Jersey Gaming Commission has been tasked with the responsibility of reviving Atlantic City's struggling casino market and also increasing employment opportunities for casino employees who are now unemployed. A New Jersey casino regulator recently conducted a survey which revealed that there are currently 1400 jobs available in Atlantic City's casinos but only 350 jobs are for full time positions.
Matt Levinson who is the chairman of the Casino Control Commission spoke to senior officials in all eight of Atlantic City's casinos to understand the current state of employment and each casino's current employment opportunities. Levinson states that based on his feedback casinos are currently offering temporary jobs or summer jobs and will consider full time jobs at a later stage.
In a statement, Levinson said
There have been two job fairs in Atlantic City this week — events that underscored how significant the unemployment challenge is in the Atlantic City area — and news reports about them quoted people who said they were desperate to find work. But in recent weeks I had also been hearing that there are jobs available in casinos here. So I took it upon myself to contact GMs at each casino company here to get an idea of just how many job openings are currently available, and I was surprised to learn that casinos are looking to hire more than 1,400 people today.
As of now there is no central registry of casino job openings in Atlantic City but Levinson confirms that Atlantic City has plans to create one in the near future. The central registry will allow casino employees to easily and directly access current openings in Atlantic City's casinos, find out more about the role and benefits and they send in their applications.
Many of the laid of casino workers have been without work for months and are happy to accept any job, even if it is for a temporary period of time. Some of the current jobs on offer require hotel service workers, food and beverage attendants and casino dealers.
---