Afghan Veteran 26, Wins £13 Million From A 25p Casino Bet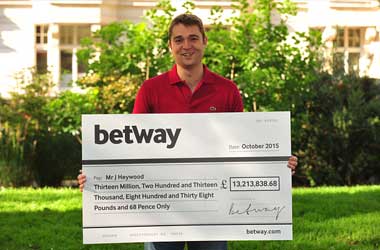 Brick and Mortar and online casinos have a system in place that makes the probability of a player winning against the house extremely rare. A 26 year old Afghan veteran managed to do exactly this when he placed a 25p casino bet on a Mega Moolah game from Microgaming on the 6th of October and ended up winning a £13,213,838.68 jackpot more to his surprise and delight.
The 26 year old Jon Heywood who lives in Crewe, Cheshire was overwhelmed to become an overnight multi-millionaire and initially decided to keep his win a secret and go to work as usual.
Only when the news became official and he was presented with a cheque, did it finally sink in. Jon then decided to share the news with his family and made up his mind on how he wants to spend his prize money.
Jon's father Douglas is battling a serious illness that requires him to have a heart and lung transplant and Jon wants to make sure that his father gets the best possible medical treatment that money can buy. In a statement, Heywood said
I couldn't believe that I'd won all this money at the time – and it still hasn't sunk in. It's amazing. The first thing I will spend it on is the best possible medical treatment for my dad. That's more important than anything. Family comes first and I'd give all this money back for him to be healthy again
Jon decided to play Mega Moolah game after he saw an ad on TV promoting the game. He made a small deposit of just £30 and made 25p bets to see if he could end up winning the jackpot. After just seven minutes of playing, he managed to find a winning spin that turned him into a multi-millionaire.
Jon who is a F1 fan also wants to spend some of the money on himself and trade in his old Fiat Punto for a yellow Bentley Continental GT. He also plans to splurge some of the money on his extended family and take them all on a cruise to the Mediterranean.
The Mega Moolah jackpot that Jon won has now turned into the biggest jackpot payout for an online slot machine game and created a world record. Due to the strong euro-to-pound exchange rate, Jon's payout has broken the previous record which occurred in Finland back in 2013.
---